Click Here for a Printer-Friendly Version of BIO – Alison Osinski Ph.D. (PDF format, 16MB) Updated April 2017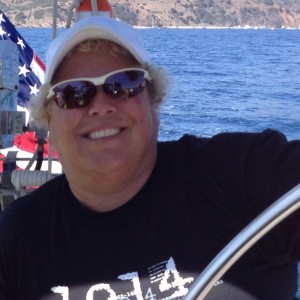 Dr. Osinski's educational background includes degrees from the University of Maryland (Ph.D.), Florida International University (M.S.) and Hillsdale College (B.S.) in Physical Education with a  specialty in Aquatics.
Dr. Osinski's experience in the field of aquatics includes past employment as: a lifeguard, swim instructor, swim coach, crew coach, pool manager, pool service technician, marine institute  aquatic specialist, park & recreation supervisor, and university professor – prior to starting her consulting firm in 1982.
Alison Osinski is currently the principal-owner of Aquatic Consulting Services, located in Avalon, California (Santa Catalina Island), specializing in aquatic risk management, and aquatic facility design, management and operation. Services include: site inspections, pool design and renovation projects, staff screening and selection, lifeguard audits, expert testimony,  accident investigation, equipment specification and testing, pool operator training and certification courses, and water quality analysis. Clients include: health and fitness organizations, schools and universities, social service agencies, therapeutic facilities, water parks and community aquatic leisure centers, amusement parks, swim schools, military bases, camps, zoos, resorts, attorneys, architectural and engineering firms, aquatic agencies and foundations, homeowners, manufacturers of aquatic related products, and municipal park and recreation and safety management departments.
She is actively involved with several national and regional aquatic organizations. Dr. Osinski is an author with over 150 publications to her credit, editorial advisory board member for several aquatic publications and journals, workshop coordinator and frequent speaker at national aquatic conferences. She is a member of the NSF Internationalʻs NSF/ANSI 50 Joint Committee on Recreational Water Facilities, the International Swimming Hall of Fame's International Advisory Committee, and International Association of Plumbing and Mechanical Officials' IAPMO Uniform Swimming Pool, Spa & Hot Tub Technical Committee and the IAPMO Technical Correlating Committee.
Dr. Osinski is listed in Aquatics International's 2013 "Power 25 – Aquatics' 25 Most Influential People of the Past 25 Years", Aquatics International's 2005 "Power 25", the 1998, 2002, 2003 and 2004 "Who's Who in Aquatic Leadership", the 1997 "Who's Who in Aquatics 100", and has received industry recognition awards from the United States Water Fitness  Association, Aquatic Therapy & Rehab Institute, World Waterpark Association, Aquatic Exercise Association, Facilities & Equipment Council, and the Aquatic Council of the American Alliance for Health, Physical Education, Recreation & Dance; and the San Diego County Aquatic Council. She holds current certifications from the National Swimming Pool Foundation, Association of Pool & Spa Professionals, Professional Association of Diving Instructors, National Association of Underwater Instructors, Aquatic Council of the American Alliance for Health, Physical Education, Recreation & Dance; United States Coast Guard Auxiliary, Sailboats, Inc.; and California Department of Boating and Waterways.
Alison Osinski is also a U.S. Coast Guard licensed captain (Master, Near Coastal – 100 Tons, with Sailing, Towing, TWIC &  STCW Endorsements
) and has established a related business which includes keel boat sailing lessons, boat handling skills and safety drills, instruction in navigation and rules of the road, boat deliveries, day sailing trips and Pacific Ocean cruises off Southern California and to the Channel Islands. Alison travels extensively, and enjoys kite flying, gardening, ocean sailing, SCUBA diving, fly fishing, boogie boarding, and most other aquatic activities.